Spearpoint 1943 Village and Defensive Line Map Expansion
Overview
Details
Learn to Play
Downloads
Reviews
Gallery
FAQ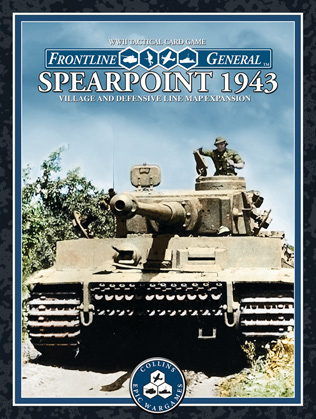 Spearpoint 1943 and Spearpoint 1943 Eastern Front are fast-paced two-player tactical card wargames set in WWII. Expand your copy of either game with the Village and Defensive Line Map Expansion! This expansion uses the cards from either base game of Spearpoint and adds new depth to the system with terrain, scenarios with fiction by Mark H. Walker, beautiful Marc von Martial artwork, large die-cut 1" counters and 4" terrain tiles, printed rules booklet, quick reference and score cards, and a gorgeous two-sided mounted 12"x36" Village / Defensive Line map inspired by 1943 Italian summer and winter terrain.
Nominated for an Origins Award in 2013 for Best Historical Boardgame
Contents:
1 12"x36" double-sided mounted Village / Defensive Line map
24 large 4" square die-cut double-sided Feature Tiles (Terrain, Obstacles, Fortifications, Buildings)
56 large 1" square die-cut double-sided tracking Counters
8 new Scenarios with fiction by Mark H. Walker (LnL)
40-page Rules and Scenarios Booklet
2 Quick Reference Cards
1 Score Sheet
Score Sheet Tokens
Heavy duty telescoping box
Find out more about this game under Details.
Download the Rules and more in the Downloads section.
Buy the game through your favorite local game store or direct through Collins Epic Wargames. Released May 31, 2012.
Designer: Byron Collins
Artwork: Marc von Martial
Fiction: Mark H. Walker
Rules Editor: Michael Koznarsky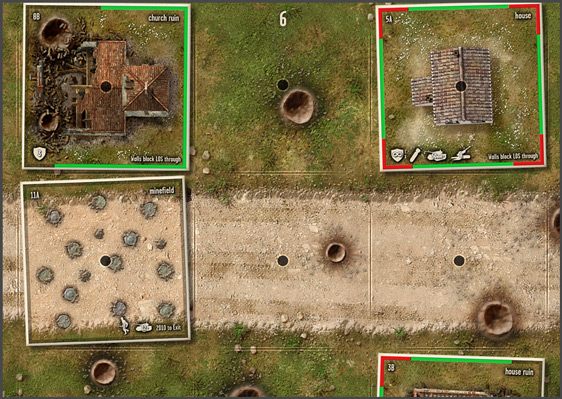 Frontline General: Spearpoint 1943 Village and Defensive Line Map Expansion takes our Spearpoint 1943 WWII tactical card games to a greater level of depth for players who want to take Spearpoint 1943 a bit further. Using the Spearpoint 1943 base game, we focus on battles between US and German forces in Italy during 1943. Once the Eastern Front base game is available, an all-new Scenario book will be released that focuses on battles between German and Russian forces on the Eastern front in 1943. The map expansion provides terrain that can easily be used for each setting. This is not a standalone expansion, and relies on use of the cards and dice of either base set in order to play. The rules of the expansion supercede the rules of each base game when played with the expansion, and provide an entirely diferent feel for the game.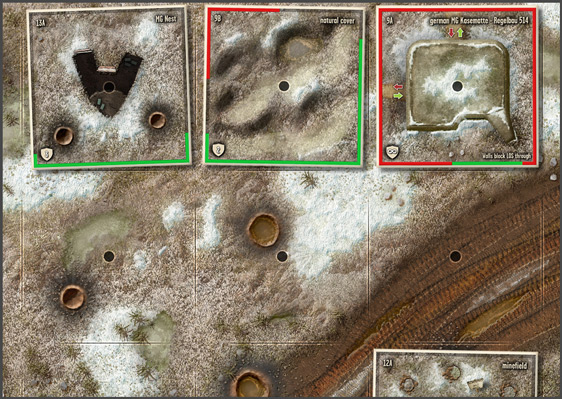 Standard and Scenario Game Types will be familiar to players of Spearpoint 1943. Yet the addtion of terrain, line-of-sight, movement, range, and a gritty, realistic immersion factor courtesy of Mark H. Walker's fictional introductions to each linked scenario, make this expansion a game that Spearpoint 1943 players will not want to miss. Many concepts and mechanics (such as combat and deck construction) from Spearpoint 1943 are carried over to the expansion, making the transition to the expansion for Spearpoint players relatively easy.
Another way we facilitate learning the game is through something totally unique to Collins Epic Wargames. We have embedded Quick Response (QR) Codes right into the printed rules set and Quick Reference Card. QR Codes are images that may be scanned by any "Smart Phone" or QR Reader. In addition, you can click the codes while viewing the rules online. Each code links to a video tutorial of a key concept or example, helping you learn the rule or refresh your knowledge of it right from the gaming table. All 17 videos provided by the designer give players a visual and audible way to learn various rules concepts.
Check out the Learn to Play tab to view the video tutorials. Download the rules, view the Gallery, and check out the FAQ for answers to some frequently-asked questions about this expansion. When you're ready, we hope you'll decide this game is for you, and that you'll enjoy it for many years.
Enjoy!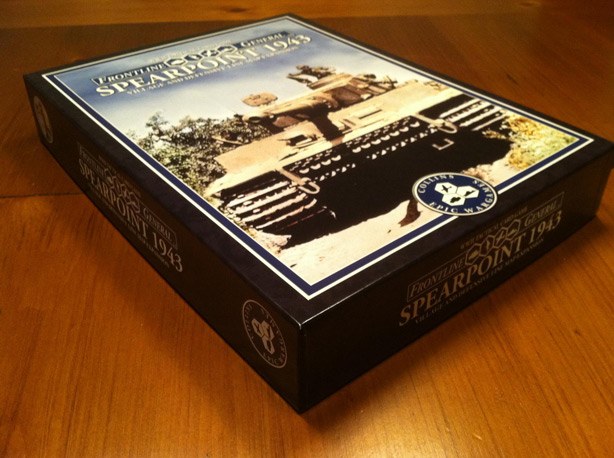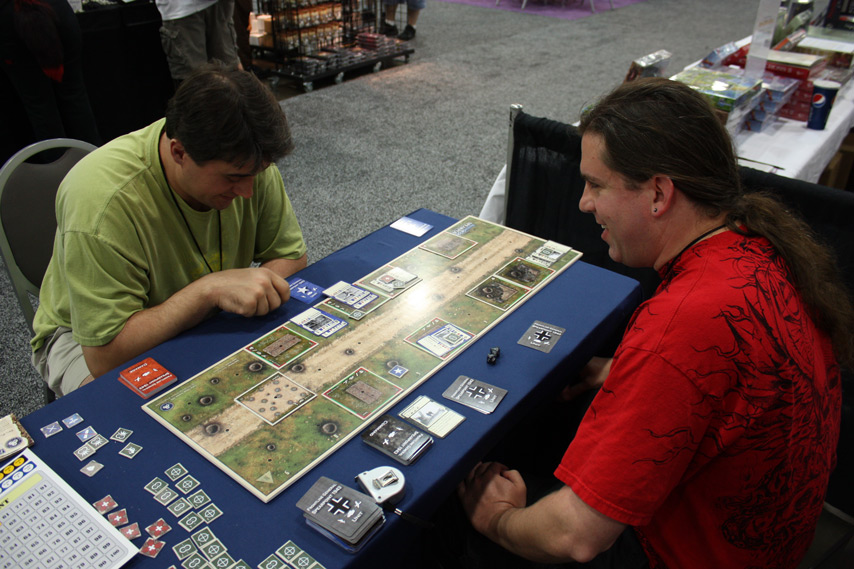 To learn the major concepts of this game, we offer video tutorials that are linked from within the rules as well as here using Quick Response (QR) Codes (and hyperlinks in the PDF). Simply scan a code with a smart phone or other QR Reader (or click the codes if viewing the PDF online) to bring up a video tutorial of the concept in action, including a complete example turn.
To get started, check out the introductory video below. We then recommend opening up the Rules of Play PDF (or reading the hard copy) available in the Downloads tab, reading a section, and then watching the associated video content for that concept (linked from within the rules and also linked below as a playlist).
Introductory Video
Video Tutorial Series (17 Complete Videos)
We fully support our games. If you ever have any questions about how to play, please get in touch with us through the game's forums on Boardgamegeek.com or direct by e-mail.
Download the Rules of Play with Scenarios (Online Version) and other files below. All files are Adobe PDF format and require Adobe Acrobat Reader to view them. Printing is allowed for personal, non-commercial use only.
Rules and Scenarios
Other Files and Player Aids
Note 1: Tuck Boxes courtesy Dustin Boggs. These are the same Tuck Boxes linked in the Spearpoint 1943 Downloads Tab. They are a great way to store your Spearpoint 1943 Cards right in the Map Expansion Box. Instructions for use: Print on a heavy card preferably with an inkjet printer. There are a lot of darker tones on the box which lasers have a hard time reproducing. Glossy paper will print better as well. DO NOT scale when printing and print with a vivid or high colour setting for best results. Then fold and place original unsleeved cards in the appropriate boxes.
Gallery of Spearpoint 1943 Map Expansion In Action
Gameplay at various conventions including Origins, Williamsburg Muster, Guns of August, Prezcon, and the GAMA Trade Show.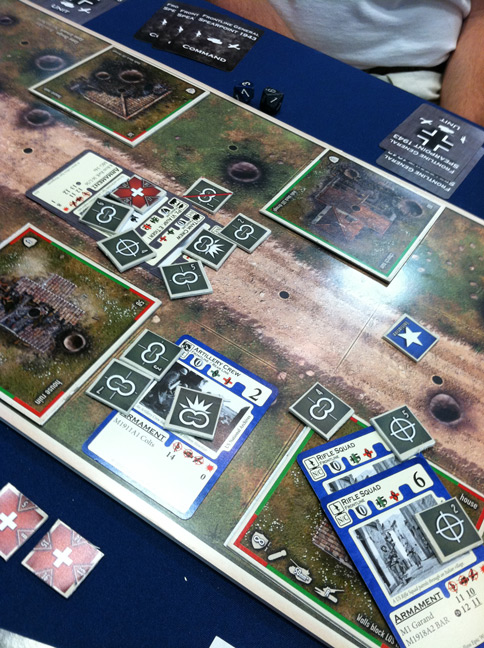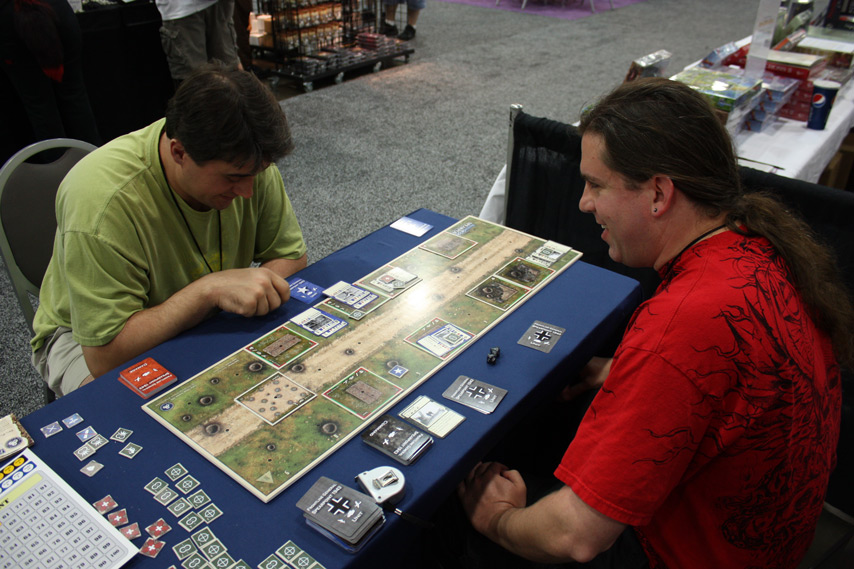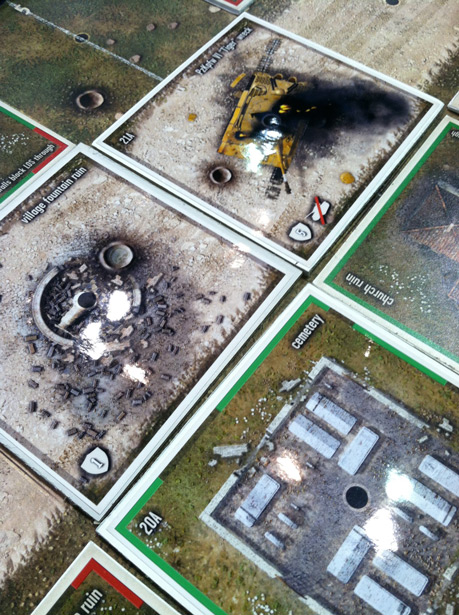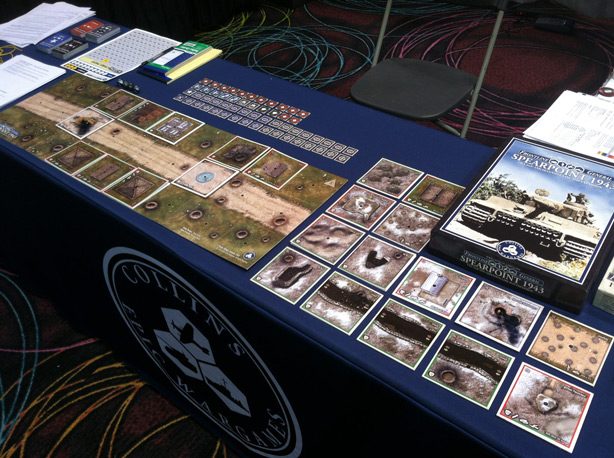 General Frequently Asked Questions
Below are frequently asked general questions about this game.
Q: What is the level of difficulty of this game?
A: Medium difficulty to learn and play. It is more in-depth than Spearpoint 1943, but you don't need a history degree to play.
Q: What is the level of abstraction of this game?
A: A fair amount of abstraction carries over from Spearpoint 1943 regarding combat factors and luck of the die, however, much of the abstracted elements of Spearpoint now appear in the expansion such as line of sight, terrain, movement, stacking, range, and more.
Q: What is the "luck factor" of this wargame?
A: Some cards in the game are randomly drawn and there is a fair amount of dice-rolling for combat resolution, similar to Spearpoint 1943. There are many more tactical decisions to make, which reduces the luck factor.
Q: Is this a good introductory wargame?
A: Absolutely. We recommend starting with Spearpoint 1943 a gateway, and then enhancing that game with the map expansion for more depth and immersion.
Q: How do the QR Codes work that are printed in the rules?
A: Quick Response (QR) Codes work by linking you to a video tutorial of the concept presented. Multiple tutorials throughout the rules help you learn the game from the gaming table with the help of any smart phone that can read QR Codes. Alternatively, you may click on the codes in the PDF version of the rules to get access to the tutorials.
Q: How long does a typical game take to play, including setup?
A: Games typically take 1 hour to play depending on rules profeciency. The first few games may take a bit longer to play as the rules are learned.
Q: How much replayability does this game offer?
A: Infinite. Standard games let you customize every game through deck-building. Scenario games offer objectives for players but still include a deck-building element. Terrain Tiles set up differently with each game- even within most scenarios. Every game is completely unique- even with the same initial setup, and each game tells a story.
Q: Can I use miniatures to represent units instead of the cards from Spearpoint 1943?
A: Yes. 15mm minis work great in place of the Unit Cards from the base sets of Spearpoint 1943.
Q: How does this game expand the Spearpoint 1943 Eastern Front game?
A: Spearpoint 1943 Eastern Front is a second base game of Spearpoint that we're working on. Once released, we'll also release a brand new scenario book for use with the Map Expansion. The winter side of the included may can easily double for a Russian Front setting. The end result is an expansion for two games, providing you with even more value.
Q: Where can I purchase this game. In our online store directly (we ship worldwide) or through many US and international retailers.
A: We have distributors in the USA, UK, Canada, France, and Germany.